St. Jacob's Orthodox Church, Mundare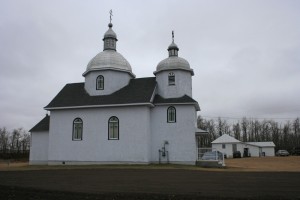 The Orthodox Parish of St. Jacob is located 4 miles northwest of Mundare, Alberta. Junction of Range Road 170 and Twp Rd. 540. The parish was organized by Kondrat Sheremeta, Rev. Jacob Korchinsky and the 17 families that immigrated to Canada from the province of Galitcia and Bukovina (then Austria, today Western Ukraine) in the late 1890s.
The organization of the parish was started on March 21, 1901 at the home of Kondrat Sheremeta when 17 families left the Uniate Church and joined the Holy Orthodox Church. Forty two children were baptized by Rev. Jacob Korchinsky.
Architect and carpenter of the church was Kondrat Sheremeta. The church was completed in 1904, and on August 6(old calendar), it was officially consecrated by His Grace Bishop Tikhon of the Russian Orthodox Church of the Aleutians and North America. (Later he became Patriarch of Moscow and All Russia in 1917-1925.)
In 1942, the original church building was moved to its present location, renovated and placed on a concrete foundation. Although relatively small, it is an appealing and attractive church with a dome and bell tower being distinguishing outside futures.
In 1998 the new iconostasis was completed. Royal doors were built and donated by Bob Koroluk and family.
In 2002 a new Altar Table was built by Bob Koroluk and was consecrated by Archbishop Mark (Petrovtsi), Very Reverend John Shandra and Reverend Igor Kisil on March 9, 2002.
A well kept parish hall is often used for all church functions.
This church is one of the oldest sanctuaries in Lamont County.
In 2004 Parish celebrated 100th Anniversary